I met a team that had the flow and loved what they worked with
International Key Account Manager at Connected Wind Services Danmark A/S
Why Wind Power and why Connected Wind Services?
When I was sitting in the classroom at Royal Institute of Technology in Stockholm 2002 I saw a course called Wind Power Technology. That was the start of a mindset of something more than just my future job opportunities.
To work in the renewable energy gives you a very positive attitude to the sustainable development and natural mindset to be part of decreasing the CO2 emission that warm up and melt the ice around the pole circles and the climate change of our world in a rapid speed. To hand over the earth to future generations in the same or better shape is or must be one of the best jobs or purposes you can have.
The idea hit me after the course. I wanted to be part of this and here I stand some few years later with a job that I like and dreamed of.
My career in the Wind Industry started in 2005 and I joined Connected Wind Services in 2012 as Technical support/Inspector, within the next 1,5 years I made over 200 wind turbine inspections mostly Vestas and Enercon.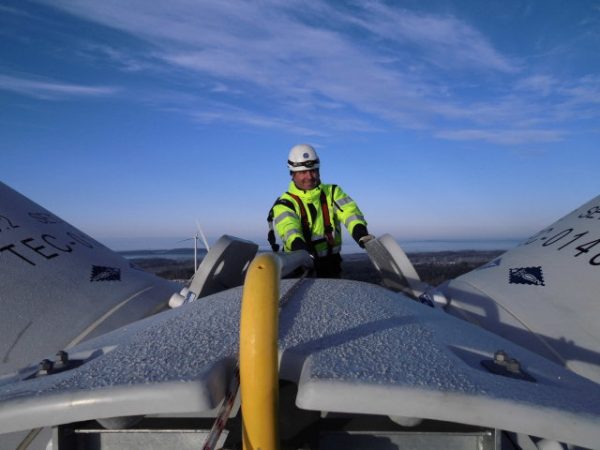 I met a team that had the flow and loved what they worked with and to be part of a team like that was easy, remarkable and very positive. Later, I moved on as Technical Team Manager, Sales Manager and now in 2018 as International Key Account Manager for the mother company in Denmark.
During those years there have been ups and downs, but Connected Wind Services has always looked over the surface and into the future with new visions and a fantastic and strategic perspective. At Connected Wind Services the managers have seen up to the employees and given them the trust and opportunity to be promoted so they can grow together with the company as well.
As a Key Account Manager, you are the front line to the customers, to listen to the customers' demand and then tailor make their solution and be flexible when we come to negotiation. One of the great things that I appreciate at Connected Wind Services are the short ways to the decision and the team behind it as well. It's worth gold in weight to have a great team behind when you work with sales.
To work at Connected Wind Services is a great team work effort that comes naturally through fantastic and great co-workers. There is always space for a sense of humor and a good laugh is always welcomed.
Since 2016, when our owner EnBW acquired us, there have been a lot of positive inputs and I look very positively into the future and look forward to the upcoming challenges and opportunities for Connected Wind Services.
Connected Wind Services is a company in constant progress and development to meet the customers demand in the future.
Join us to be a part of the team and to share the success!