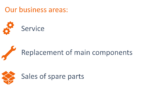 5000+ spare parts & critical components
About us
Connected Wind Services is Denmark's leading independent service provider within wind turbine service and repair.
We have been working within the wind turbine industry since 1987 and today perform service on more than 1000 turbines in Denmark.
Connected Wind Services is the ISP with the largest components and spare parts inventory in the market. With thousands of spare parts of highest quality in stock, Connected Wind Services can provide almost any component and spare part needed by wind farms throughout the world – whether it is a discontinued part or the latest technology.
Strong ties to key wind turbine OEMs, equipment OEMs and sub-suppliers further improves our ability to identify, source and supply the parts you need efficiently. As Europe's first ISP with over 30 years of experience, we use our deep industry knowledge to consult quickly and deliver what you need as fast as possible.
Read more about us here.
Gear boxes and turbines from our stock
Exemplary spare parts
Request quote
Searching for a specific item or having questions? Contact us!
Rune Høy
Head of Aftermarket & Procurement
Connected Wind Services Danmark A/S
Marzena Kmiecik
Sales / Purchaser
Connected Wind Services Danmark A/S
Lissi Le
Spare Parts Sales Assistant
Connected Wind Services Danmark A/S
Frequently Asked Questions
Got questions? Here you can find answers to frequently asked questions. If you can´t find what you are looking for, feel free to contact us via the request quote below.
Do you deliver worldwide?
Yes. We have customers in- and outside of Europe, e.g. Jamaica, Japan, France, Spain & US.
In stock: 1-5 working days
Standard: 8-14 days working days
Urgent: 3-7 days working days (Extra cost: €135 excl. shipping cost)
Can CWS provide spare parts for all WTG types?
Being a multibrand ISP, we have spare parts in stock for the most common WTG types.